UNM Enchanted Eclipse 2023
On the morning of October 14, 2023, the southwestern US will experience a solar eclipse. Albuquerque will see an annular eclipse. At the peak, the moon will block all but a small ring around the edge of the sun.
Date: Saturday, October 14, 2023
Time: 8:30 am – 12:30 pm

The eclipse will start at 9:13 am when the moon starts to block the sun
10:36 am is the PEAK for 4 min and 48 seconds. The full size of the moon will cover most of the Sun. Only a small ring of the sun will remain visible. This is sometimes called the 'ring of fire'.
The eclipse will be over at 12:09

Location: UNM Johnson Field
Cost: Free
Read more about the October 2023 Annular Eclipse in Albuquerque (pdf)
Please Join Us
The UNM Physics and Astronomy Department will be helping the public to appreciate the solar eclipse.
At Johnson Field
Faculty, students, and staff will be available at Johnson Field starting at 8:30 am. We will watch the eclipse together and explain what is happening in the sky
You can get free eclipse glasses and field maps at tables on the southwest side of Johnson Field
We'll show you how to use pinhole cameras to view the eclipse
Light games: learn how astronomers determine the makeup of the sun by splitting light into its color components, and how we use polarized light to learn about Earth's atmosphere (bring your polarized sunglasses!)
The sunny side of eclipses and eclipses on other planets: find out what astronomers are learning about the Sun during solar eclipses, and what eclipses outside the Solar System tell us about other stars and their planet
Experience the eclipse with all your senses: "see" the Solar corona with your hands, hear the eclipse progress with our solar eclipse sonification devices, and use your own body to experience the celestial body alignments that give rise to eclipses
Eclipse photography: Get tips on how to safely take pictures of eclipses from an expert photographer
Group solar viewing tents
Telescopes for safe solar viewing will be set up throughout the field
Enjoy a solar system walk along Redondo Drive

Support our goal of a new Campus Observatory for UNM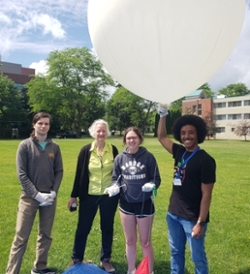 Balloon Launch
As part of the NASA sponsored Nationwide Eclipse Ballooning Program (NEBP), 14 undergraduates from Penn State will be launching a helium balloon (about the size of a car) from Johnson Field in the hour before eclipse maximum. Several different payloads will be strung out behind the balloon. A live feed of what the eclipse looks like from the balloon will be displayed in one of the tents on a big TV monitor on Johnson field. See the project website.
At PAÍS
Join us for a program of free public talks from 8:50 am to noon on Saturday, October 14, 2023 at the Physics, Astronomy, and Interdisciplinary Science building room 1100.
While the talks are happening, we will project a live image of the sun on a screen in the room so you won't feel left out of the action happening outside.
8:50 am
Welcome
Greg Taylor (UNM)
Distinguished Professor, Physics and Astronomy
9:00 am

Solar Physics

Find out how the Sun works
What powers it?
How old is it and how long does it have to live?
What are solar storms and how can they affect you?

Stephen White (AFRL)
Scientist, Space Vehicles Directorate
9:30 am

High Energy Views of the Sun

The Sun doesn't just shine in visible light. What can we learn from other kinds of radiation?

Fred Baganoff (MIT)
Scientist, Kavli Institute for Astrophysics and Space Research

10:00 am
Optical and Radio Solar Eclipses


What does a solar eclipse look like through an optical telescope?  
How about with a radio telescope?
What have we learned about the Sun and our Universe through studies of eclipses?

Greg Taylor (UNM)
Distinguished Professor, Physics and Astronomy
10:35 am
Annularity
No talk: We'll be watching the eclipse
11:00 am

History of Eclipses

What has been the impact of eclipses on various cultures?
What records of eclipses have ancient civilizations left behind?

Kylar Greene (UNM)
Graduate Student, Physics and Astronomy
11:30 am

Eclipses on Other Worlds

Learn how scientists use eclipses of other stars to find and characterize planets orbiting them
Mallory Harris (UNM)
Graduate Student, Physics and Astronomy
12:00 pm
End
Online
We will post continuously updated images of the eclipse on this site
In case of clouds, we will stream the eclipse from clear regions along the path
Off-campus
Various organizations throughout the area will also be hosting events.
Safety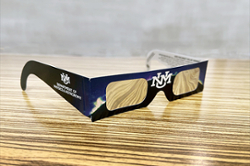 We will provide UNM Department of Physics and Astronomy-branded solar eclipse viewers so you can look at the sun without damaging your eyes.
Starting Monday, October 2, you can pick up a pair of solar eclipse glasses at the PAÍS front office at 210 Yale Blvd NE, Room 1180 on Monday, Wednesday, and Fridays from noon - 2 pm;  and Tuesdays and Thursdays, 11-1 pm.
Donations are encouraged and appreciated.
Read more about viewing a solar eclipse
Parking
It's a Saturday, so parking is free on city streets off campus. On campus, pay station parking at $1.75/half hour is available across Redondo Drive and at the Cornell parking structure.
What should I bring?
Bring folding, camp, or stadium-style chairs. The entire eclipse lasts almost 3 hours, which is a long time to stand around and watch
There will be food trucks and a coffee truck, so you can buy something to eat or drink

Suenos Coffee (coffee and pastries)
Castaneda's Kitchen (New Mexican)
Black Iron Catering (burritos and coffee)
Love Waffles (waffles/sweets)
Science of Solar Eclipses
Why do we get eclipses?